For Atlantia's 30th anniversary, Kingdom Historian Stefan of Cambion encouraged me to gather the list of all the Royal Brewers there had ever been in Atlantia. Our Kingdom Chronicler helped a lot, and I did a lot of newsletter digging and networking to find this list. I can't guarantee I've got the early years exactly correctly. Royal Brewers sometimes served for more than a year, and we had some gaps for one reason or another in the early years, so there's not necessarily a 1:1 relationship between Royal Brewer and year of installation.
I loved being Royal Brewer; as I explained elsewhere, it's carte blanche to do anything (legal) you can think of to encourage brewing in the Kingdom. It gave me an excuse to talk to total strangers the length and breadth of the Kingdom, something I'd never have had the courage to do otherwise.
Without further ado, ladies and gentlemen, here are those who have spent a year of their lives (sometimes more) building up the art and science of brewing in the Kingdom of Atlantia.
Sorcha Crowe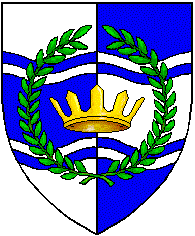 ROYAL BREWERS of ATLANTIA
Updated 12/2020 from Kingdom Records
Ciaran Mac Breandain (March 2020)
Owain Weale (March 2019)
Alain ap Dafydd (March 2018)
Isabel Henry (March 2017)
Seamus MacWhellan (March 2016)
Jaume de Monco (March 2015)
Brian Crawford (February 2014)
Rayhana bint Jusuf (February 2013)
Patrick Ravensclaw (February 2012)
Seamus MacWhellan (February 2011)
Brian Crawford (June 2010)
Sorcha Prechan (May 2009)
Karl Haraldsson (April 2008)
Siegfried Sebastian Faust (November 2007)
Karl Haraldsson (May 2006)
Daria of Atlantia (April 2005)
Michel von Schonsee (April 2004)
Nikulai Ivanovich & Thorgrimr inn Kyri (April 2003)
Declan Mac Dockery (April 2002)
Jehan Yves de Chateau Thiery (June 2001)
Daria of Stierbach (August 1999)
Terafon Greydragon (December 1998)
Havelyard of Bourne (February 1997)
Alexander Mareschal (March 1996)
Tadhg mac Aedain ui Chonchobhair (February 1995)
Annora nic Chailin (April 1994)
Brie Kieran (1993)
Terafon Greydragon (March 1992)
Corwyn Woodwarde (May 1991)
Allen of Dunwich
Brie Kiernan
Bianca Della Robbia
Philip of Ghent
Gyrth Oldcastle
—————— Original List Below —————–
Gyrth Oldcastle
Philip of Ghent
Bianca Della Robbia
Brie Kiernan
Bianca Della Robbia
Brie Kiernan
Allen of Dunwich
Corwyn Woodwarde 5/91
Terafon Greydragon 3/92
Brie Kieran
Annora nic Chailin 4/94
Tadhg mac Aedain ui Chonchobhair 2/95
Alexander Mareschal 3/96
Havelyard of Bourne 2/97
Terafon Greydragon 12/98
Daria of Stierbach 8/99-2/01
Jehan Yves de Chateau Thiery 6/01
Declan Mac Dockery 4/02
Nikulai Ivanovich and Thorgrimr inn Kyri 4/03
Michel von Schonsee 4/04
Daria of Atlantia 4/05
Karl Haraldsson 5/06
Siegfried Sebastian Faust 11/07
Karl Haraldsson 4/08
Sorcha Crowe 5/09
Brian Crawford 6/10
Seamus MacWhellan 4/11
Patrick Ravensclaw 2/12
Rayhana bint Jusuf 2/13
Brian Crawford 3/14
Jaume de Monçó 3/15
Seamus MacWhellan 3/16