I am so sorry, everyone, I thought I'd published this back in March. I didn't remember I'd meant to read it through one more time.
Raven's Cove had done a bang-up job organizing this KASF. It was held at the Mad Boar in Wallace, NC, a beautiful restaurant with meeting rooms, and upstairs our main hall with a stage (Commedia!). It's richly paneled in dark wood, with a deeply carved ceiling and stained glass here and there. Both Royal Brewer and Royal Baker competitions were downstairs in a wood paneled, crystal-lit side room, far enough from the madding crowd that we could concentrate. The organizers had put out plenty of signs, some quite humorous, so it was easy to find. In the room, there was a beautiful sign marking our table – and one for the Bakers, of course. Even though both Lord Rhys ap Terafan and I got there early to check out our arrangements, one Lord Eoghan had gotten there even earlier, and left both his entries and filled in judging forms for us. Gotta love a prepared man.
Somehow Lord Terafan judged the Persona Pentathlon in the morning, then came down and judged RB all afternoon. I might've had a single brain cell left after trying to do that, but he was taking it all in stride.
Our then-current Royal Brewer, Lord Brian Crawford, had been called away by mundane duties (something called "drill") and could not be there to run the Royal Brewer competition this year. Lord Brian had been careful to announce the categories and guidelines for this year's competition months in advance so people could prepare, but now he had to scramble to line up everyone and everything to run without him. He'd asked me to come judge quite a while ago, and he reached out to Lord Rhys ap Terafan, Atlantia's first (and only other) brewing Laurel. Brian's gracious wife, Lady Eleanor, was our go-between. She ported the Regalia, the venerable RB pitcher, and some beer (including his yummy take on William Harrison's Ale) for the judges. Any day that starts with a gift of good beer must be propitious! Terafan and I promptly divided those up and set them aside to take home. Thank you Lord Brian!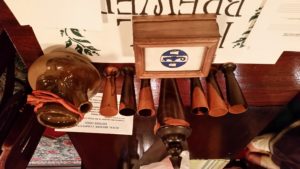 We laid out the prizes for display- the Regalia, the venerable pitcher, and a gold-and-brown wood drink set that was my personal gift to the new RB. We laid out more judging forms, more pens, filled our own pitcher with water, set the dump bowl, towels and tasting glasses, and eyed the table crowded with bottles. This year's competitors were going to earn bragging rights, this was going to be a stiff competition.
There are plenty of people who think the Guild just gets together to drink, and that judging competitions is just another excuse to get wobbly. Let me tell you, it ain't like that. We had a lot of entries and only two hours to go through them all, trying to stay fair and consistent. Afterwards, one of us was going to have to speak to King Michael to inform him of our results and impressions and receive his selection of winners. One of us was going to have to stand up before King and Court and everyone to announce the results. As it turned out, I got Lord Terafan to do both of those things, though he asked me to write up the announcement.
Sometimes, especially in the SCA, one receives an unexpected, delightful gift of service. In our case, Lady Eilon bat Miriam stepped in to manage the scoring, sorting, and final calculations, mercifully keeping us organized. My ability to perform basic arithmetic crumbles when I'm "in combat" – don't snicker, I'm slow on a good day. Lady Eilon totally took care of the administrative end of things.
First the beers – not too many this year, which was surprising. There are usually lots. Then the meads, sorted from traditional not-so-sweet to very sweet and/or strong flavored. Then the cordials – there were lots and lots of cordials, with flavors ranging from sweetly fruity to strongly botanical. I'm not saying it isn't fun, and gratifying to see so many entries, but we were working so hard we gathered a peanut gallery of folks hanging out to listen and watch. All of them, of course, were brewers themselves, so we got to meet some new folks! (Well, not new to Atlantia necessarily, but new to us.) We shared tastings of particularly delightful or interesting brews with our onlookers after we'd finished our forms – always with one eye on the time.
We finished with about fifteen minutes to spare – enough time for Lord Terafan to go discuss things with His Majesty, and for me to get the Regalia and prizes upstairs to the main hall. I stopped to admire the new Regalia box Lord Brian had made. The old one was an aged men's faux leather jewelry box which looked as though it had held cufflinks or a tie tack many, many years ago. It had served us well for a long time, but the new box (see the picture above) is much, much nicer.
Court went well; in fact it was one of the warmest and funniest Courts I've attended in quite a while. Lord Terafan thanked our outgoing RB Lord Brian. Lord Jaume de Monçó was duly installed as King's choice for the next RB. I expect you'll see him around, wearing his well-earned medallion with pride.
Submitted this day in honor of bee and brew,
Sorcha Crowe